There are important templates that pertain to this article, click above for details....
This article is a stub and needs help, if you aren't sure what to add, please see Bach, creator of this world...
This character's fate is still being written, there is much more in store for them, you can keep track of their story here. As their story is revealed, feel free to help add the new information to this article.
Lyre
Characters     

Great King of Demiville
---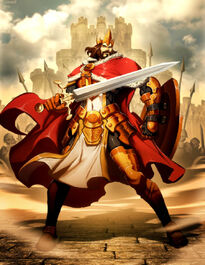 ---
General Info
| | |
| --- | --- |
| Name | Lyre |
| Gender | Male |
| Species | Human |
| Status | Alive |
| Eye Colour | Brown |
| Hair Colour | Brown |
| Height | 6'3" |
| Current Location | Kingdom of Demiville |
---
Other Info
Family
WIP (wife)
Princess Blue (daughter)
Prince Gruff (son)
Affiliation
Demiville
Loyalty
Demiville
Birth Place
Demiville
Born
WIP
Death
N/A
Age
38

Great King Lyre, is the current ruler of the Kingdom of Demiville. He is well revered by his sovereign for his military prowess, power, and majesty. Unbeknownst to almost, if not all, residents of his kingdom, he is a king cloaked by a vague mystery, a dark past, and an indistinct identity. Despite the gleam of his mighty sword and shield, the depth of his background is seemingly inconceivable. He is the father of the currently abducted Princess Blue, and the missing Prince Gruff.
Personality
Edit
WIP
WIP
Princess Blue -Daughter
Prince Gruff - Son
Appearance
Edit
WIP
Out of Character
Edit
He is based on User:LyreOfOrpheHyus