There are important templates that pertain to this article, click above for details....
This article is a stub and needs help, if you aren't sure what to add, please see Bach, creator of this world...
This character's fate is still being written, there is much more in store for them, you can keep track of their story here. As their story is revealed, feel free to help add the new information to this article.
Moon Song
Characters     

Princess
---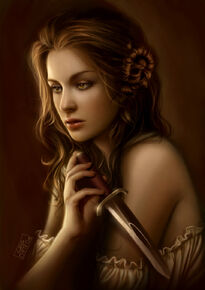 ---
General Info
| | |
| --- | --- |
| Name | Moon Song |
| Gender | Female |
| Species | Hobbits |
| Status | Alive |
| Eye Colour | Hazel |
| Hair Colour | Auburn |
| Height | 4'6 |
| Current Location | Yatalu |
---
Other Info
Family
Queen B'ceteiz (Mother)
Affiliation
Hobbits


Witch of Roses

Loyalty
Mother
Birth Place
Yatalu
Born
WIP
Death
N/A
Age
17

Princess Moon Song was born to Queen B'Ceteiz in the Hobbit Kingdom of Yatalu. WIP.
WIP
Personality
Edit
WIP
Appearance
Edit
Princess Moon Song has auburn hair, hazel eyes, and tan skin. She also dresses very simply for a princess.
Possessions
Edit
She often wields her dagger, Katoptris
Out of Character
Edit
She is based on User:Shademoon