There are important templates that pertain to this article, click above for details....
This article is a stub and needs help, if you aren't sure what to add, please see Bach, creator of this world...
This character's fate is still being written, there is much more in store for them, you can keep track of their story here. As their story is revealed, feel free to help add the new information to this article.
"
I'm so, so sorry, my son, he's, well he wasn't always like this, he was once a brave, kind and caring boy, and I hope he'll be that way again someday, before someone kills him and it'll be too late to ever change.
"

–Lady Riri, to Princess Blue
Lady Riri The Graceful
Characters     

Former Queen of Carbonville
---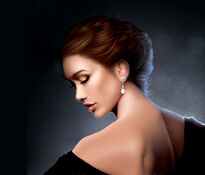 ---
General Info
| | |
| --- | --- |
| Name | Lady Riri The Graceful |
| Gender | Female |
| Species | Human |
| Status | Alive |
| Eye Colour | Green |
| Hair Colour | Brown |
| Height | 5'9" |
| Current Location | Kingdom of Carbonville |
---
Other Info
Family
Unkown Husband (†)
Lord Hydro (son)
Great Witch of Roses (sister)
Affiliation
Carbonville
Loyalty
Princess Blue, Carbonville
Birth Place
Carbonville
Born
WIP
Death
N/A
Age
WIP

Lady Riri, the Graceful, is the mother of Lord Hydro, and former Queen of Carbonville. She is known for having a dislike towards her son, Lord Hydro - longing for the days when her husband ruled and she was queen.
Personality
Edit
Lady Riri is known for her Grace, hence her being known as 'The Graceful'. She is also very generous and kind, as seen when she gives Princess Blue food and medicine during her time as prisoner of Lord Hydro. Riri waited in the Dungeons, until Blue fell asleep, so to not trouble the child, showing her motherly instinct and kindness.
WIP
WIP
Appearance
Edit
WIP
Out of Character
Edit
She is based on User:Riri25